On behalf of the SDC Inc. family and all the employees at South Dartmouth Construction Inc., we would like to thank you for taking the time to visit with us on our web site. We trust this site will be a portfolio of our work and will give you greater insight to South Dartmouth Construction Inc., our mission and vision and the diverse capabilities we possess.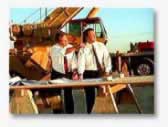 On this site, you will not be burdened with multiple pages of boring text describing all the mundane details of projects. What you will see, however, are samples of our work. It is said "a picture is worth a thousand words." These images speak volumes about our performance and our commitment to providing our clients with the absolute best in construction services.
We are anxious to show off the excellent work of our people here at SDC, Inc. We take great pride in our employees and the terrific effort they put forth. In addition to the project section, you will be able to see the factors that set us apart from our competitors, learn about certain aspects of construction, learn about employment opportunities and be provided with avenues to contact us to discuss your next building project.
Again, thank you for visiting with us today.